Home » Transmission Filters
Transmission Filters
Transmission Filters are designed to help to maintain your car's transmission while keeping it operating at an optimum level by prevention possible damage.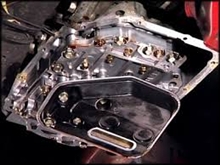 The transmission sends power from the engine to the drive wheels. It works in conjunction with the engine's RPM range, gears and drive wheels and is ultimately responsible for the speed and acceleration of your vehicle. Transmission filters prolong the life of the fluid and transmission by trapping potentially harmful particles and abrasives.
Transmission Filters improve transmission performance by protecting sensitive shift control valves. Normal engine wear and tear can create metal flaking and other fibrous materials that can cause abnormal sticking and part failure.